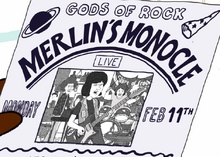 Merlin's Monocle is a rock band in F is for Family. It is a three-piece progressive rock band that consists of Kevin and his two friends, Lex and Bolo. Their main mission is to become famous rockers while staying true to themselves.
They have two songs, each lasting approx. ten minutes long. One is called "Weathered Souls", which Kevin wrote about his relationship with his father. The local radio station uses part of the song as their weather jingle. The second song was written by Bolo and Lex. A third song was played once. It was improvised by Kevin, about his guilt over sleeping with Vic's girlfriend, and lasted 30 minutes.
The band has played two shows. One, at the Paradise Pavilion, the old folks home where Lex's Bubbe Esther lives, and a second at Vic's house.
By the third season, the band is either broken up or on indefinite hiatus, as Kevin left while Bolo and Lex formed Throbinson Crusoe in order to play music similar to the Lifted Riffs so they could get girls.
Bolo and Lex kicked Kevin from the band because he wasn't playing what they wanted to play.
Musical Influences
[
]
The three teenagers are obviously heavily inspired by their favorite band, Shire of Frodo. Their rehearsal space is covered in posters and other memorabilia from the band, and they wore Shire of Frodo t-shirts during their first gig. Many of the fantasy themes are lifted from the band as well, although instead of writing fantastical stories, Merlin's Monocle tends to use these themes as thinly veiled metaphors for events in their own lives.
Members
[
]