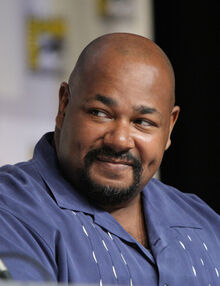 Kevin Michael Richardson (born October 25, 1964) is an American actor and voice artist best known for his deep villainous voice. He voices Rosie in F Is for Family.
Notable Roles
Edit
McDonalds Franchise - Grimace
Lilo and Stitch Franchise - Gantu, Cobra Bubbles
The Batman - Joker
Queer Duck - Openly Gator
Family Guy - Jerome, Cleveland Brown Jr., various
The Cleveland Show - Cleveland Brown Jr., Lester Krinklesac, various
American Dad - Principal Lewis, Tank Bates, others
Chowder - Schnitzel (Pilot only)
F Is for Family - Rosie
Uncle Grandpa - Mr. Gus
Gravity Falls - Sheriff Blubs
SpongeBob SquarePants - King Neptune (live action sequences/"Party Pooper Pants" only), Nurse Bazooka, Seagull from "Sponge Out of Water", and Sir Urchin
The Simpsons - Various characters
Danny Phantom - Skulker (2nd voice), Dragon Ghost, Paulina's Father, and Operative M
Jimmy Neutron - Tee
Teen Titans - Mammoth, See-More, Trigon, Bear, and Snake
Codename: KND - Dr. Lincoln, others
Duck Dodgers - Nasty Canasta
House of Mouse - Prince John
The Fairly OddParents - Dark Laser, A.J.'s Dad , Santa Clause, and additional voices
Invader Zim - Additional voices
The Proud Family - Omar Philips and Doctor Payne
Recess - Mr. LaSalle and Streak
Rugrats - Trash Guy and Sergeant
Hey Arnold! - Blind Man, Newscaster
Samurai Jack - Demongo and additional Voices
Billy and Mandy - Additional voices
Foster's Home for Imaginary Friends - Uncle Pockets, Yeti and additional voices
Catscratch - Lackey Tom
Loonatics Unleashed - Slam Tasmanian, Tech E. Coyote, and others
Class of 3000 - Additional voices
The Marvelous Misadventures of Flapjack - Additional voices
Transformers: Animated - Omega Supreme
The Mighty B! - Donald the Postman, and others
The Penguins of Madagascar - Maurice, Bada, Bing, Pinky, and others
Adventure Time - Donny, and additional voices
The Looney Tunes Show - Guard
Regular Show - Happy Birthday
Guardian's of the Galaxy (cartoon series) - Groot and others
Bunsen is a Beast - Wolfie
Community content is available under
CC-BY-SA
unless otherwise noted.