"This is simply incredible. A courageous Mohican employee is taking on the hijackers single-handedly. This is the most heroic thing this reporter has ever seen since I reported on my own reporting of the Vietnam War."
- Jim Jeffords
Jim Jeffords
is a famous news reporter and television host. He is voiced by
Phil Hendrie
.
Biography
Edit
Jim Jeffords talks mostly about social issues on his show, though it is obvious does not do much research on his topics and is more than insensitive on issues such as racism and women's rights.
Jeffords played a major role in "The Trough". For his show, he went undercover as a black man in order to expose racism. When he asked Frank to help him as his car had run out of gas, Frank drove away in a panic. This was later broadcast, and Frank labeled "the Face of Racism in America". This broadcast was seen by Rosie, and used as more evidence of Frank being two-faced and untrustworthy.
Jeffords also covered the strike at the airport on Christmas Eve.
Jeffords portrays Hobo Jojo on Channel 9's afternoon kid's show by that name. He indulges his fetish for pregnant women by hitting on pregnant mothers in the audience, including Sue in "Frank The Father". When Jeffords cheats at the last second so that Maureen wouldn't win, Phillip becomes enraged and proceeds to violently beat him up on camera.
While there is a real Jim Jeffords who was a longtime U.S. Senator from Vermont, there is no indication the character is meant to represent this man, who never had a broadcasting career, although the two bear a physical resemblance.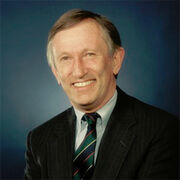 Filmography
Edit
Episode Appearances
Edit
Community content is available under
CC-BY-SA
unless otherwise noted.