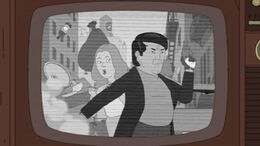 Colt Luger
is the name of Frank's favorite television series in
F is for Family
. He is played in universe by
Reid Harrison
. The name is derived from the name of two guns (the 9mm German Luger and the Colt .45). He is voiced by
Phil Hendrie
.
"Sometimes a man's gotta do what a man does." - Colt Luger's catchphrase
"You just smacked a broad! Roll again." - Colt Luger, audio from his board game
Bill sometimes uses examples from this TV show for inspiration towards toughness.
Colt Luger is a clear parody of Charles Bronson's character Paulie from the 'Death wish' film series.