"

Fuck you forever

"
—Bob to Frank
"

Hello, my dear friends. It lifted in my spirits to see you all smiling as I drove off.

"
—Bob greets them to all of Mohican Airways
Robert Deemwitt "Bob Pogo" Pogrohovich is a major character of F is for Family. He is Frank's obese boss at the airport who has to ride on a mobility scooter to move. However, he later loses some weight after being trapped in his car for 17 hours and now moves on feet from the start of season 2. From S4E3 onwards, he seems to have "melted".
Personality
[
]
Bob Pogo
Health Issues
[
]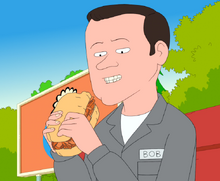 Obesity
Episode Appearances
[
]
Quotes
[
]
"Dunbarton gave your job to his shit for brains nephew Scoop."
"God is a Negro? I'm in trouble."
"If I could pull a trigger, I'd kill myself."
"Everybody look at our black guy! He's happy and well fed."
"WHAT THE FUCK?! A COUPLE ASSASSINATIONS, AND THEY GET WHATEVER THEY WANT?!"
"Go ahead! EVERYBODY SCREAM AT THE BELLY FREAK!!!
Selling wasn't my idea!
"Drive like the wind, Frank!"
Trivia
[
]
David Koechner, who voices Bob, is a longtime friend of Bill Burr.
As of now, Bob Pogo is the only character so far to receive a major change to his physical appearance in the present time (in which he remains that way throughout the entire Season 4).
His surname suggests that he has Polish roots
He's probably parody of John Wayne Gacy: Pogo the Clown was Gacy's nichname, both are of Polish/Slavic descent, have two sons, have overweight, graduated from college and work in managment.
References
[
]